Roll on the weekend! Our hugely popular International Gala All of Us Strangers has sold out, but there are lots of other Festival films to catch over the next couple of days, including The Taste of Things (The Pot-au-Feu) starring Juliette Binoche; I Dream in Photos followed by a Q&A with director Gary Lennon and its subject, Pulitzer Prize-winning photojournalist Cathal McNaughton; a Masterclass with aemi Artist in Focus: Kevin Jerome Everson, and much more. We will also be announcing the Best New Irish Feature Award winner on Sunday evening ahead of our International Gala. 
Please note Sisi & I has been rescheduled to 2.30pm Friday 24th Nov at Triskel ⁠and ⁠Come & Go has been rescheduled to 10.30am Friday 24th Nov at Triskel⁠.
All Festival tickets and passes (including our 5 and 10 Film Cinema Passes) are on sale now at corkfilmfest.org and via the myCIFF app.
---
I DREAM IN PHOTOS + Q&A
I Dream in Photos (6pm, Sun 19th Nov, The Everyman)
An honest and nuanced portrait of Pulitzer Prize-winning photojournalist Cathal McNaughton, delving into his life, work and impressive visual legacy.
Dedicated to and immersed in his craft, McNaughton's photography speaks for itself – it is sincere and pure – capturing life around the globe, expressly working to "give a voice to those that do not have one". Director Gary Lennon pays great service to the man and his impressive career, giving insight to not only his creative mind but the complexities of dedicating your life in service to your craft.
This screening will be followed by a Q&A with director Gary Lennon and its subject Cathal McNaughton. 
---
Sirocco and the Kingdom of the Winds.
Cork actor Hilary Rose (The Young Offenders, 'Live Wild' podcast) will perform a live narration of our Family Gala presentation Sirocco and the Kingdom of the Winds. (3pm, Sat 18th Nov, The Everyman)
Juliette and Carmen love a series of fantasy books written by family friend Agnes. What an exciting and unexpected surprise when they find a secret passage from her house into the world of the books! A beautiful take on 'Alice in Wonderland' by French director Benoit Chieux.
This animated adventure for all ages opened the famous Annecy International Animation Film Festival earlier this year where it won the Audience Award.
Supported by the Embassy of France in Ireland

---
Five and a Half Love Stories in an Apartment in Vilnius, Lithuania + Q&A (8pm, Sat 18th Nov, The Everyman)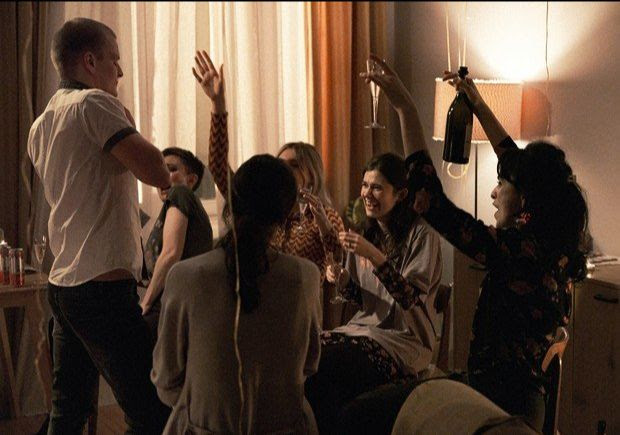 A series of vignettes situated in an apartment in Vilnius conceives a charming portrayal of the complexities of desire and love. The sophomore feature from Tomas Vengris, the story revolves around the fleeting experiences of five AirBnB guests, each in differing states of romantic entanglement and crisis.
Co-produced by Irish filmmaker Alicia Ní Ghráinne, the film beautifully encapsulates the intricacies of love and relationships across age, gender and sexuality.
This screening will be followed by a Q&A session with the film's director Tomas Vengris, and producer Alicia Ní Ghráinne.
---
SHORTS PROGRAMMES: MARIENBAD FILM FESTIVAL
The Subterranean River of Czech Cinema (3.45pm, Sun 19th Nov, Triskel)
CIFF is delighted to show a programme of short films from Marienbad Film Festival, an international film festival in the Czech Republic focusing on works of experimental nature, contemporary moving image, expanded cinema and art and challenging films.
This selection shows a diverse range of approaches within Czech contemporary experimental filmmaking:
Traces, Fragments, Roots (Stopy, Střepy, Kořeny)
Return to Adriaport (Návrat do Adriaportu)
Mitsu
One Step Forward, Two Steps Back (Krik Vpřed, Dva Kroky Vzad)
---
CIFF HIGHLIGHT: FAMILY + FILMMAKER Q&A
Family (1pm, Sun 19th Nov, Triskel)
A small village in Southern India is home to a devout Catholic community. In this community, Sony is widely liked and revered as a good Christian, always lending a hand, teaching the local children, and negotiating with the church on the other families behalf. He is a friendly chap, but a darkness lurks beneath his pleasant demeanour.
Director Don Palathara skilfully uses patience and precise cinematography to allow this story to unfold, with village gossip and religious authority blurring that which is hiding in plain sight.
2023 The screening will be followed by a Q&A with producer Chris Kuriakose
Official Selection, International Film Festival Rotterdam 2023.
In competition for the CIFF Youth Jury Award. The winner will be announced on Sunday 26th Nov.
---
DISCOVERY CHOICE: KEVIN JEROME EVERSON
aemi Artist in Focus: Kevin Jerome Everson (Masterclass) 
(3pm, Sat 18th Nov, Sirius Arts Centre)
aemi's international Artist in Focus at CIFF is the acclaimed and prolific filmmaker Kevin Jerome Everson. This masterclass offers audiences an in-depth introduction to the artist's influences and methodology.
After training in photography, Everson's practice developed to include printmaking and sculpture before turning to the medium of analogue film in the late 1990s. Since then he has created an extraordinary body of moving image work often shaped around formal devices that emerge from the subjects and themes that recur across his work.
Here he will discuss the processes, procedures and materials used in his world-renowned moving image practice over the past two decades.
Please email info@aemi.ie in advance to secure a place on this Masterclass.
aemi Artist in Focus: Kevin Jerome Everson Programme
(10.45am, Sun 19th Nov, Triskel)
A programme of short works by the acclaimed filmmaker Kevin Jerome Everson, aemi's international Artist in Focus at CIFF2023 followed by a Q&A with the filmmaker.
Kevin Jerome Everson is the Commonwealth Professor of Art and Director of Studio Arts at the University of Virginia, Charlottesville. Everson's art practice encompasses photography, printmaking, sculpture and film, 12 features and over 200 solo and collaborative short form works to date. He is the recipient of the Guggenheim; the Berlin Prize; the Heinz Award; the Alpert Award for Film/Video and the Rome Prize.
The programme will be followed by a post-screening discussion with the filmmaker led by UCC Head of Film & Screen Media, Professir Laura Rascaroli. 
---
CORK FILM TRAIL
Embark on a cinematic journey through the heart of Cork City with the 2023 Cork Film Trail. Celebrate our 68 years of the Festival through captivating visuals from the CIFF Digital Archive at five iconic locations:
St. Peter's Cork, CIFF Festival Hub, North Main Street
The Savoy, St. Patrick's Street
The Metropole Hotel (To Have & To Hold), MacCurtain Street
The Irish Examiner, Oliver Plunkett Street
City Hall Atrium, Anglesea Street
Navigate the city with our online Trail map and bite-sized podcasts, and discover Cork's renowned charm and hospitality at nearby pubs. Plus, stay tuned to our socials for the return of our popular free Trail pub quiz during the Festival.
The Cork Film Trail is presented in collaboration with our Creative Partner Babelfís and UCC, and sponsored by Murphy's.